Doggie Gifts with Aloha.
Doggie Cookie Leis
---
For all the dogs who cannot come to Hawaii, or are graduating any type of training or schooling.
Shipping Insurance:
We offer shipping insurance in case of damage, or missing orders. If your order does not arrive within the scheduled time, or is completely damaged. Insurance coverage will provide you with a replacement order at no additional cost. Please note that cracked cookies inside of a box that does not show any visible exterior damage will not be covered.
Aloha Bone Cookie Leis
"So~ Cute!!!" This is the word from every customer when they see our Pineapple flavor Bone Cookie Lei, accented with artificial flowers, (May not be exactly as pictured)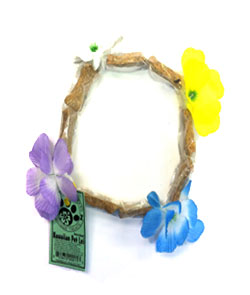 Small 18"(Flowers are of assorted Colors) 6 pcs of treats
$5.00
Large 22"(Flowers are of assorted Colors) 12 pcs of treats
$6.75